SMM Social media marketing service best way to get qualified traffic!!
In online marketing services Social media marketing is the best way to boost your company's online presence.It gives you the opportunity to spread information about your product's quality and services.
What  ShellSeo aim is to provide our customers mainly


 High standard  SMM services .


 We will help you to create social media accounts.


 Improve content and drive the results.


 Leaving you free to get increased traffic and exposure.
In today's World it is very important for your business to have social media presence, it helps to keep strong relationships with your customer and gain new customers. At ShellSeo our Social media strategy is

 Determine your business aim.


 Specify your online marketing objectives.


 Target the potential customers.


 Analyze your brand's competition.


 Select the best Social media networks for you.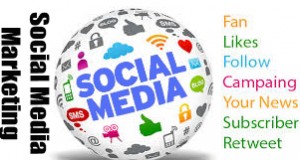 We offer the most affordable SMM Social Media marketing service
Twitter Marketing:
We'll  create and manage your Twitter Profile, provide  customized  background and  profile image for your brand which intensify your business. 
Facebook Fan Page Marketing :
We'll create customized Facebook fan page for your business similar to your website. It provides different useful options like discussion forums,client poll,limelight on your products and designs on how to improve your business. 
YouTube Marketing:
We will develop custom design YouTube channel that will exactly look like your website,all of your YouTube videos in one place,attracting people using quality keywords & demographics. 
SMM Social media marketing service helps to grow your business by developing a long-standing impact on Customers 
With our great efforts you doesn't just get followers, it will spread your product's online visibility which raise visitors to your site, in turn generating new customers and referrals.Social Media with more than 800 million users it turns out to be the most influential medium to enhance your online presence.Powerful  SMM Social Media marketing service helps you to spot your products in front of your targeted audience by writing unique posts,tweets and statuses for your company.
Contact us if you have any questions about our packages.With our SMM social media marketing service you can maintain your website rankings on Google.